Just a little update - I was fortunate enough to go on a retreat 3/16-3/18 with Calvary Central chuch. I have a good friend from work who attends there, and I went with her last year to the same retreat. Granted, this year was a total 180 degree difference than last year. (Last year it snowed and was freezing, I was in a really bad place because it was only 1 month after losing Nicholas, etc.) It was beautiful up there - 80s during the day and 50s at night. I was hot, of course. Being big and preggo will do that to you!
Sunrise Saturday Morning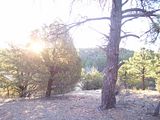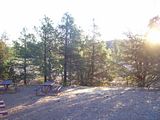 I was blessed to spend time alone, just praying and spending time with God, which I hadn't been doing a lot of. I rediscovered a lot of things about Him I had forgotton for some odd reason. In addition to that, I met a lot of women who truly showed me Christ's love even though they had never met me before and would probably never see me again! It was a great weekend.
Here are the ladies I went with: (from right to left)
Tina, Anna, Lisa and Me. No, I'm not choking Lisa, it's an inside joke. :-)
And me and my very good friend (and sister), Anna. She was sharing Christ with me before I became a Christian and was such a good example of a Christian woman. She's known me a long time and seen me through some amazing things that God has done in my life. I'm very thankful for her friendship.
Also, when we got home (sorry I don't have any pics of this, I wish I did!), my ankles were swollen up like softballs. It was so weird!!